The Value of a Travel Consultant
In today's world technology is at our fingertips. We can find answers to many questions and inquiries, just by Googling them. You can learn how to cut your own hair, but would you? You can become your own lawyer, but are you willing to accept the consequences? Likewise, anyone who owns a computer thinks he or she can put together a truly amazing vacation on their own without the help from a professional. If this is you, you might be surprised by what a recent article in Forbes had to say about using a travel consultant. 
Recently, Forbes wrote an article, These Travel Agents Are Staying A Step Ahead of Google, which discusses the value travel professionals lend to travelers. For years the news media and online businesses have discussed how travel agents are a dying profession, even with evidence to the contrary. So imagine the surprise when a group of travel agents invited a Google executive to their international conference in Cape Town, South Africa.  According to the article, "the net result was that the Google executive has since booked two trips with a travel agent"… (For the compete article, click here).
Read on to discover what we, at Encore Journeys, do you for you:
Like other professionals, we have years of training, we've experienced many destinations, we've created amazing supplier connections and we are continually learning about what's new in the travel industry. To further my education, I became a Certified Travel Advisor (CTA), the industry standard. It shows a commitment to providing excellent service to my clients and to continue learning more about the industry.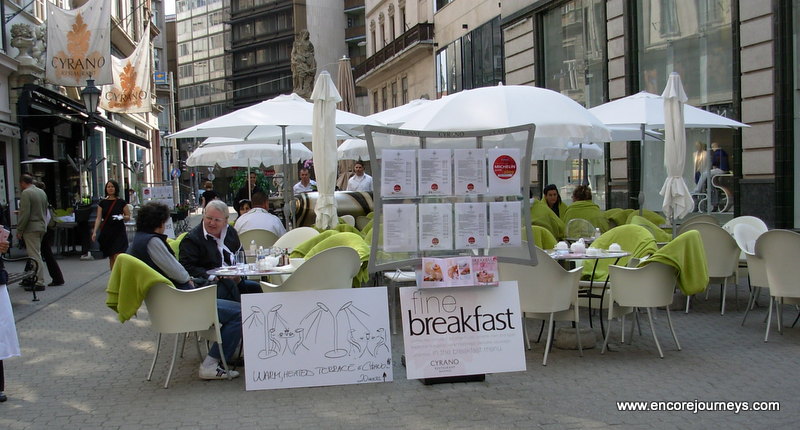 Budapest Outdoor Cafe
At Encore Journeys, our ability to create unsurpassed trips starts with discovering our client's desires. For me, the best thing about working with clients is establishing a relationship. As travel consultants, we take the time to get to know you. Each client has a different travel dream—some want to explore a new area, some want to connect with the locals, some want to walk in their ancestor's footsteps, some want to float down a river. Of course, there are other travelers who want to experience something completely different. Whatever your goals, we take the time to discover that picture you have in your mind for the vacation of your dreams.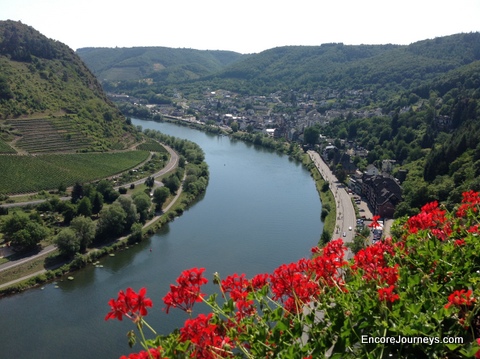 We ask a lot of questions so we know exactly what to recommend to you. We want to know your dream trip so we can create it for you. We'll find out what type of traveler you are—experienced or novice, so we know exactly what to recommend. Plus, we'll incorporate the special extras that make your vacation memorable and make you the envy of all your friends!
We also suggest tours and tickets to save you time while traveling and maximize your travel dollars. Just this week a client thanked us for obtaining tickets to a museum that had limited advanced tickets available. While others were standing in line for hours, our clients walked right up to the entrance and began their tour.
Unlike the novice traveler, we plan trips daily. While complicated trips take time to research even for us, we know where to look, who to contact for information and what suppliers are the best fit for the type of experience our client's desire. We have access, through our connections, to exclusive experiences that go beyond your expectations.  You won't find these on the internet as they are not available to everyone.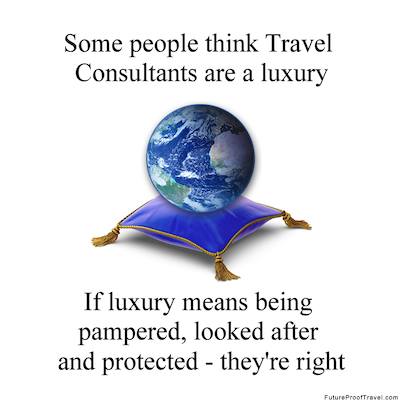 When planning your vacation, we find the best value for the trip you long to experience. It may mean recommending a hotel that includes breakfast, a private tour that provides more authentic experiences or a river cruise that provides gourmet meals, all based on what's significant to you.
Booking with Encore Journeys means that someone has your back in the event that something out-of-your control goes wrong. Consider airline strikes, storms, health concerns can all affect your travel plans. When you book direct or with OTAs, you're on your own. When you book with us, we give you access to Encore Journeys 24/7 in case something should arise where you need our help.
With all we do, is it any wonder that savvy travelers are turning to travel professionals in greater numbers to plan their trips? Let us help you create the fabulous trip you've been dreaming about.