Live Your Dream:  Stay in a Castle
Have you ever dreamed about staying in a castle?  The romance of a by-gone era comes alive when you walk through the doors.  I recently had the opportunity to stay in Dromoland Castle in western Ireland, near Newmarket on Fergus, just 8 miles from the Shannon airport.
Built as a defensive stronghold, the original castle was constructed in the 9th century. It served as the ancestral home of the O'Briens, Barons of Inchiquin. Reconstruction on the castle was completed in 1835 and the exterior remains mostly unchanged today.
My Room
In 1962, the castle was sold and turned into a 5-star luxury hotel.  By retaining some of the original furnishings in the public areas, Dromoland Castle offers you an authentic experience of life in a country estate with a lot of history.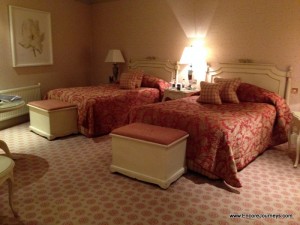 The Walled Garden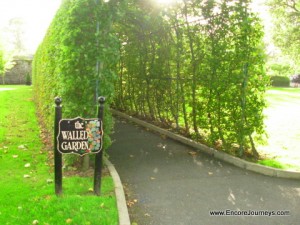 A stroll through the Walled Garden reveled a beautiful collection of multi-colored flowers and plants. Can't you just imagine the O'Briens taking that same walk over the centuries?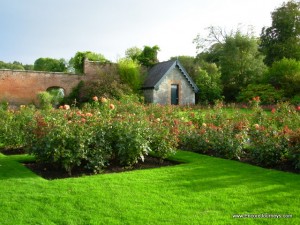 A small out building adds to the picturesque garden and offers a pleasing stroll among the many variety of flowers.
Activities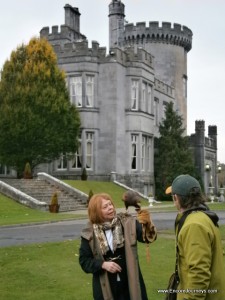 Enjoy a variety of activities. With an estate that covers 450 acres, you can stroll around the grounds, play golf at their championship course, spend the day relaxing at the spa, go horse back riding, enjoy trout fishing or boating, try your hand at archery, engage in a falconry lesson and much more. Here, I'm getting up close and personal with one of Dromoland's Falcons, T.J. He weighs less than 2 pounds. What an amazing experience and one that you can have, too! 
Dining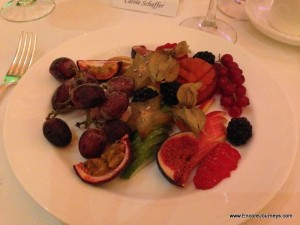 There are many dining options offered here. Their award winning Chef prepares delicious cuisine using only the best of Ireland's ingredients with a flair for contemporary and traditional dishes. For those who enjoy dressing for dinner, the Earl of Thomond provide the setting for pure elegance with silver and china service and food to match. Their extensive wine cellars offer the perfect accompaniment. They also offer a more casual dinner in the Fig Tree Restaurant or you can enjoy your dinner in your room. For those who long to experience a high tea, Dromoland Castle will have you enjoying the bites of a by-gone era.
During my visit, my companions finished off a delightful meal that ended with pastries while I was provided the same entrée and a desert that met my dietary needs. Here's my gluten-free desert one night, a plate full of fresh fruit that was beautiful as well as delicious. Of course, the rest of my meal was prepared with care to avoid any gluten as well. In addition to an authentic castle, now hotel, Dromoland was awarded a Michelin star in 1995 at its restaurant, the Earl of Thomond under head chef Jean Baptiste Molinari. 
Entertainment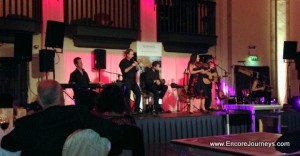 After dinner, we were entertained by a great Irish band and Riverdancing by national champions. It was quite a show!
My two nights at Dromoland Castle are full of great memories. Their very attentive staff, the amenities, grounds, food and accommodations came together to create the perfect stay.