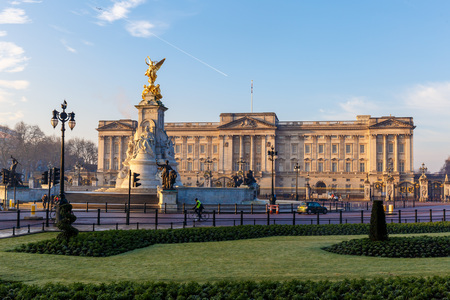 Buckingham Palace with statue of Queen Victoria
If you've been watching the PBS series, Victoria, you might be fascinated by the royal family and the queen who had an enormous impact on the lives of her British subjects. How fun it would be then, to visit the many palaces and manor homes where the royal family lived, played and ruled an empire. Luckily, all the palaces, where Queen Victoria and Prince Albert lived, are open to the public today. Although you can't go everywhere within their walls, you can still get a flavor of what life may be like for those with royal blood.
Victoria's uncle, King George III purchased Buckingham house for his wife, Queen Charlotte. Known as the Queen's House, it was for use as a private residence for Charlotte. Extensive remodeling of the original house occurred during the 19th century. Architects constructed three wings around a centrally located courtyard.
Queen Victoria used Buckingham Palace as her official London residence. She became the very first monarch to reside in here. Initially, many issues with the building existed. After living with poor heating and numerous problems, Prince Albert oversaw the care and upkeep of this spectacular edifice. Albert not only fixed the building issues, but also brought it to its glory. The palace saw further major structural additions during the 19th and 20th centuries. These include the famous balcony where the royal family gathers to greet crowds.
Kensington Palace
Queen Victoria's father was Prince Edward, Duke of Kent and Strathearn. As the fourth son of King George III, the possibility of succeeding to the thrown was remote. After a successful career in the military including living in Canada (Prince Edward Island is named after him) he returned to England. His intention was to marry and have children, since his brothers had failed to produce any legitimate heirs to the throne. He married the German Princess Victoria, of Saxe-Coburg-Saalfeld. A year later their daughter Alexandrina Victoria, who became Queen Victoria, was born at Kensington Palace, located in London.
Statue of Queen Victoria on grounds of Kensington Palace
Unfortunately, Prince Edward died several months after the birth of his daughter. King George III allowed Victoria and her daughter, Princess Victoria, to live in some apartments in the dilapidated palace. Upon his death, they moved to Buckingham Palace.
Windsor Castle
Originally built after the Norman Invasion in the 11th century. As castles were built for defensive purposes, Windsor Castle is no exception.  Initially used by Henry I, this palace has been occupied by every British monarch since. In fact, it has been in continuous use longer than any other palace in Europe.
Windsor Castle
Located just outside London, Windsor Castle's strategic placement on the River Thames has helped protect the city in the past. It's hard to image the many battles that took place around these walls.
Gardens at Hampton Court
At Hampton Court, located in the suburbs of London, you can step into the world of Henry VIII. Originally owned by Henry VIII's close advisor Thomas Wolsey. As Wolsey fell out of favor with the king, he reluctantly gave this property to his sovereign. King Henry VIII then began extensive renovations here.
After Henry's death, King William and Queen Mary completely remodeled, saving only the great hall. The last monarch to live here was George II, Queen Victoria's great-great grandfather. During her reign, Victoria invited the public to view the gardens at Hampton Court.
Today the palace and grounds are open to the public and two events occur every summer:  The Hampton Court Palace Festival in June, which features a variety of musical venues and the largest flower show in the world, the Hampton Court Palace Flower Show.
Balmoral Castle
Prince Albert discovered Balmoral Castle in Aberdeenshire, Scotland for the family retreat. Their first year visiting they rented the spacious building and the following year they purchased it. Today, the royal family still vacations here in the fall for the Scottish Highland Games.
Osborne House
Queen Victoria and Prince Albert with their children loved to get away for short breaks at the Osborne House located on the Isle of Wight in southern England. Prince Albert discovered this secluded gem and oversaw the remodeling and extensive additions as he worked with renowned architects.
Opening times and months vary by properties and some are best reserved ahead of time to avoid lines. Some castles also hold limited exhibits that change over time and can be very popular. Weaving special tours like these (and much more) into your itineraries are what we do for your added enjoyment!